Pfizer CEO Bourla: Omicron-specific Covid vaccine will be ready by March
Moderna CEO talks Omicron booster shots, 2022 COVID-19 vaccine sales forecasts, global vaccination
Posts: 3903
Joined: Fri Jun 26, 2020 5:22 am
Location: the trenches
GE suspends Covid vaccine and testing rules after Supreme Court blocks Biden mandate
https://www.cnbc.com/2022/01/14/ge-susp ... ndate.html
KEY POINTS
General Electric has suspended implementation of Covid vaccine and testing rules for its employees, which numbered 174,000 at the end of 2020.
The move followed the Supreme Court ruling that blocked President Joe Biden's mandate.
Biden called on businesses to voluntarily implement the rules.
General Electric suspended its Covid vaccine and testing requirement on Friday after the Supreme Court blocked the Biden administration's mandate, a company spokesperson told CNBC.
GE, which had174,000 employees at the end of 2020, has encouraged its employees to get vaccinated, the spokesperson said.
The Supreme Court's conservative majority, in a 6-3 ruling, called the Biden administration's requirements a "blunt instrument" that "draws no distinctions based on industry or risk of exposure to Covid-19."
President Joe Biden, in a statement after the court's decision, called on companies to voluntarily implement the vaccine and testing rules.
"The court has ruled that my administration cannot use the authority granted to it by Congress to require this measure," Biden said. "But that does not stop me from using my voice as president to advocate for employers to do the right thing to protect Americans' health and economy."
Labor Secretary Marty Walsh has vowed to use the Occupational Safety and Health Administration's existing authority to hold businesses accountable for protecting workers against Covid.
long miss led a substantial proportion of Americans unnecessarily vulnerable to Delta, and now to Omicron
https://washingtonpost.com/opinions/202 ... ter-shots/
(written before Omicron reported)

Hypothetical curves based upon current vaccine effectiveness data for Omicron vs hospitalization (~50% VE for vaccinated, and, ~90% vaccinate, boosted)
Why are we not seeing data plotted like this?
Where are US data,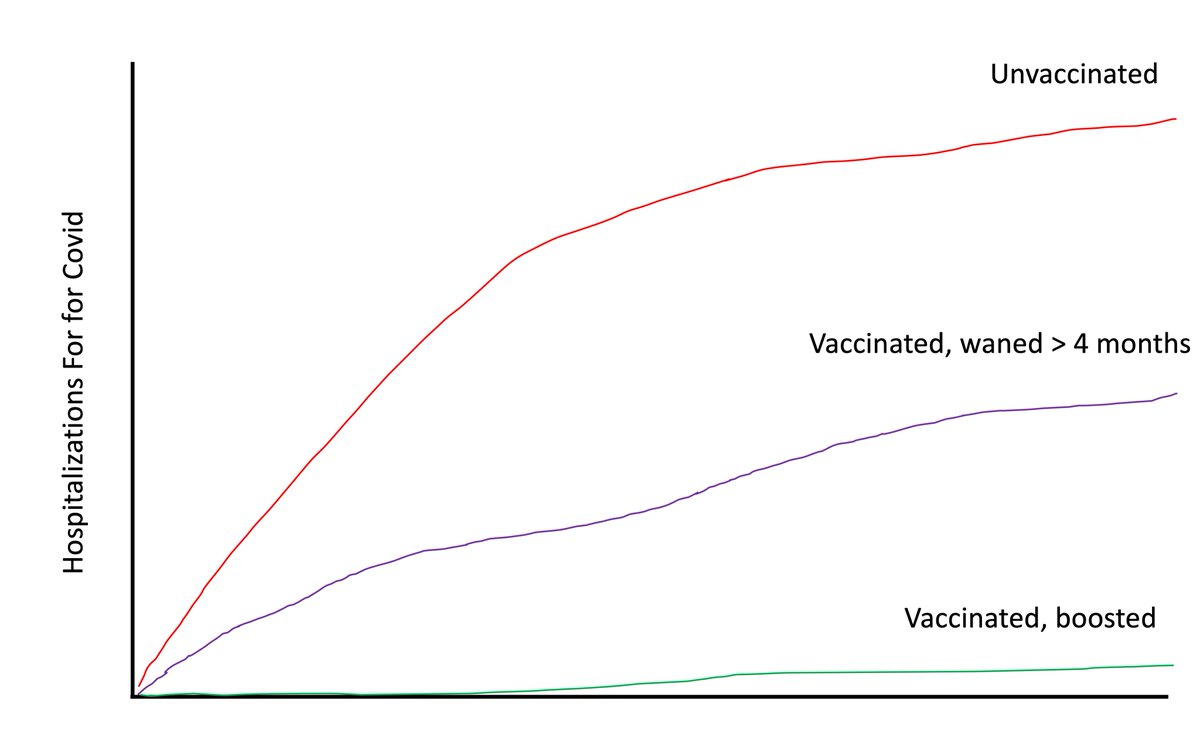 How can a mild respiratory SARS-CoV-2 infection lead to longterm neurological symptoms? Possibilities include 1) direct infection of Brain, 2) autoimmunity, and 3) inflammatory impact of infection distal to the Brain. In this study, we focused on 3) Down pointing backhand index (2/)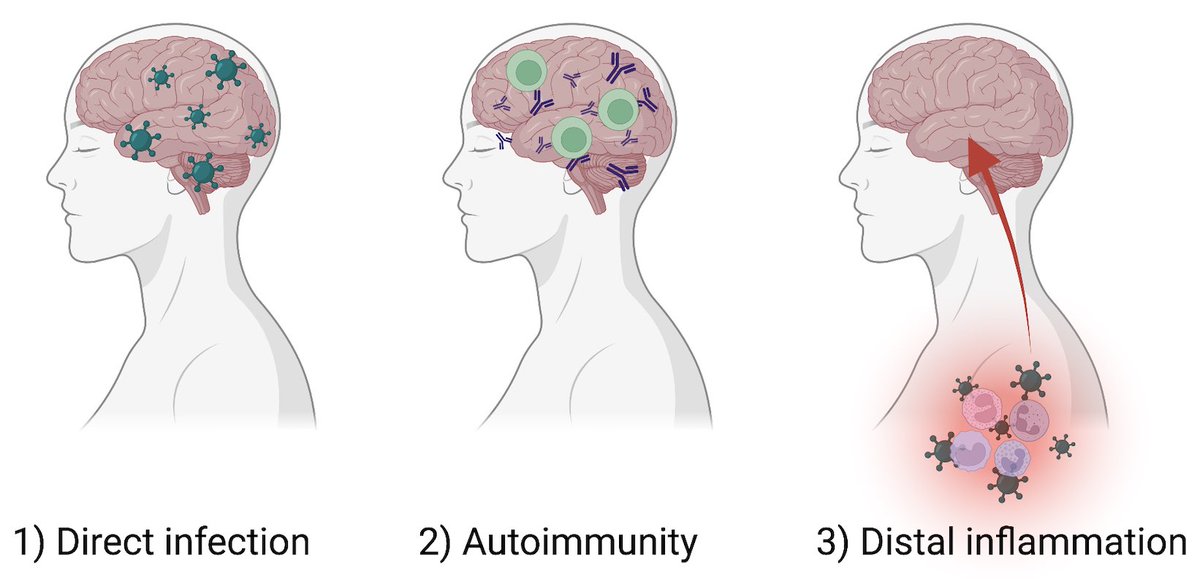 Updated data: The COVID death rate among unvaccinated people is 25-times higher than among vaccinated people who received a booster.
This is the latest age-standardized data from Chile.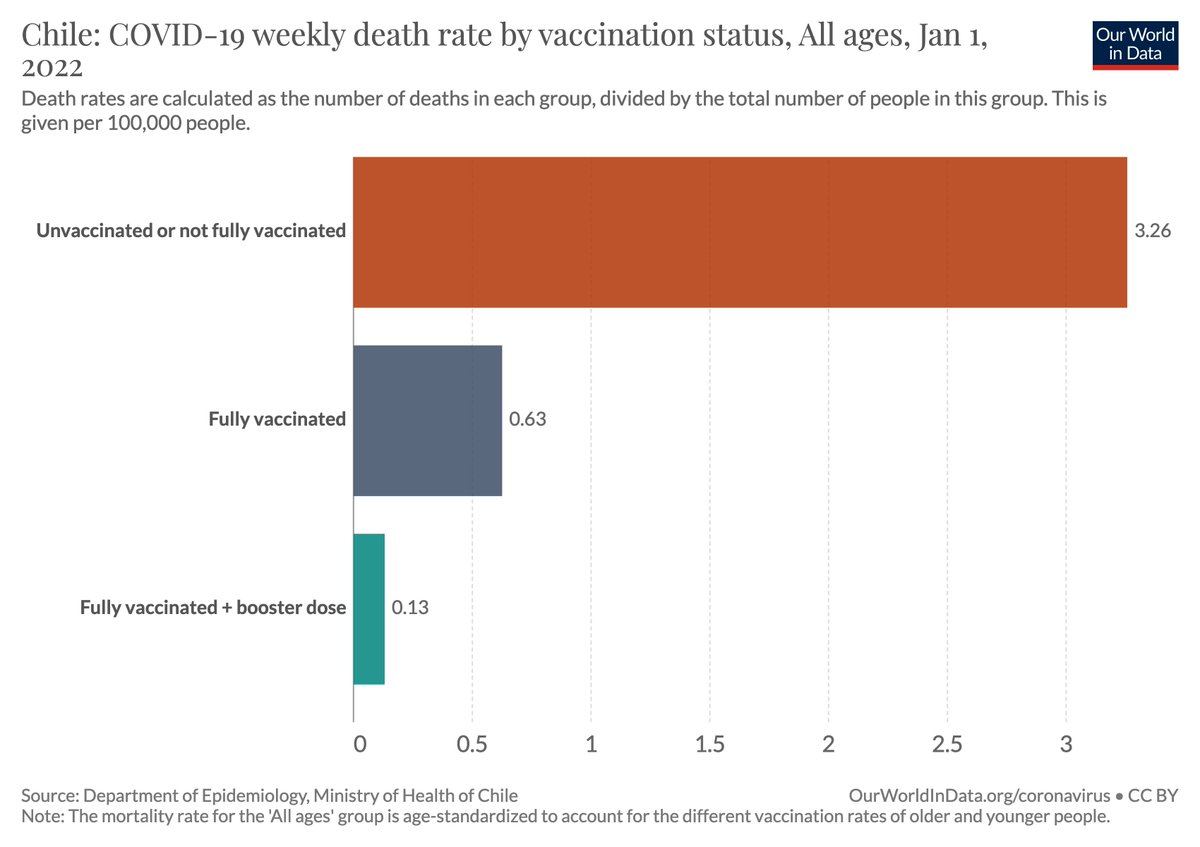 True. But a booster may only hold for 3 months in the Omicron variant.
How does it protect in the future?